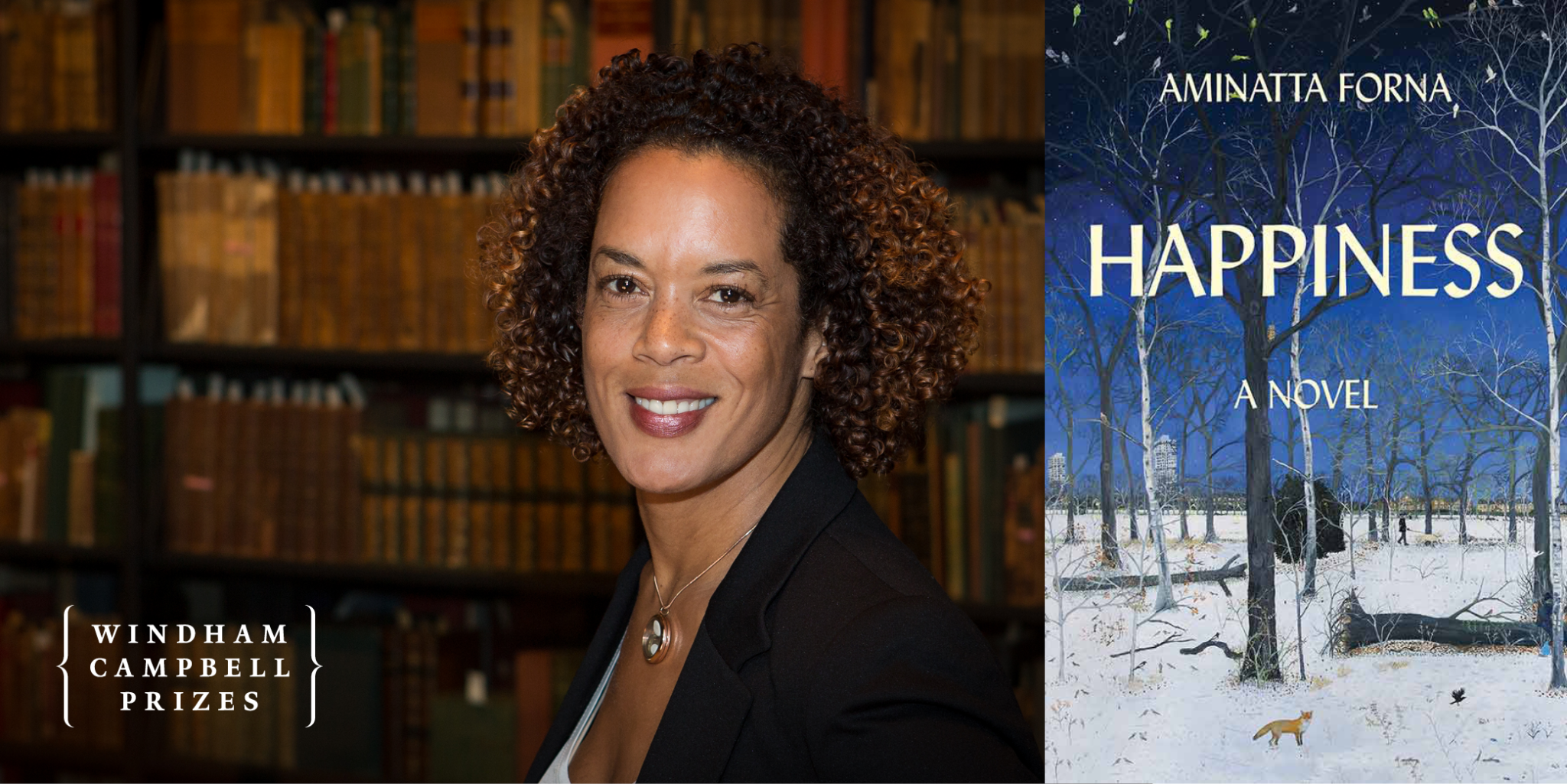 News
What to Read This Month: HAPPINESS by Aminatta Forna
May 30, 2018
Dear Reader:
Thinking of what to pick up next at the bookstore or read with your book club? This month, we're spotlighting Aminatta Forna, 2014 Windham-Campbell Prize recipient, currently on tour with her widely-acclaimed new novel, Happiness. In her own words,
The idea for Happiness began to form back in 2010, soon after I finished writing my novel The Memory of Love. One of the characters from the earlier novel, a West African psychiatrist named Attila, had stayed with me and I wanted to bring him back to life, in particular I wanted to bring him to London, my home of thirty years. In 2014 I was back in the city after a semester teaching at Williams College in Massachusetts, where I had and begun some preliminary research into animal/human coexistence, which would become a significant theme in the book. I had one main character and the second character was coming into view. In late January of 2014 I typed out a proposal. I looked at it recently out of curiosity and was interested to see how much of the story had changed and how much had stayed the same. 'In cities the richest and poorest of us, the weakest and the strongest, the disenfranchised and powerful, animals and humans live side by side,' I had written. 'Happiness is a book about adversity and what it takes to survive. Most of all, I think, it is a book that asks one overarching question: How should we live?'

February 25th. I found the date just now in my diary. I had an appointment with a physiotherapist. By then I had been persuaded by my husband not to delete the email I was sure had been sent from a boiler room in Lagos, a 419 as such mails are called (all Windham-Campbell winners have their own version of this story) and to send my telephone number. I took Michael Kelleher's call on my way home. I never did submit the proposal to my publishers or any publisher. I decided that this was a book of complex ideas and one I would write in my own time, free of the pressure of deadlines and in as creatively an open space as I could find. It took three years. I wrote half the book in England and half in the United States, appropriately since the story takes place in the two places. And in April this year Happiness enjoyed a simultaneous launch in both.
A New York Times Editors' Choice, Happiness has been described as "exquisite," "piercingly intelligent," as well as evincing a "beautiful and brutal" portrait of the human pursuit of power and domination.
Be sure to check out Aminatta's interviews with the Times Literary Supplement ("If you think writing isn't a political act, that's very likely because the politics are working in your favor") and The Guardian, as well as her recent appearance on PBS Newshour, in which she discusses the relationship between narrative and suffering.
Finally, theater lovers, take note: 2017 Windham-Campbell Prize recipient Marina Carr is having what New York Times critic Laura Collins-Hughes describes as her "long overdue" New York debut this month with Woman and Scarecrow, "a blistering beauty of a play that rages with regret and pitch-black humor." Tickets are available through June 24—friends, don't miss out!
Enjoy the sunshine,
The Windham-Campbell Prizes