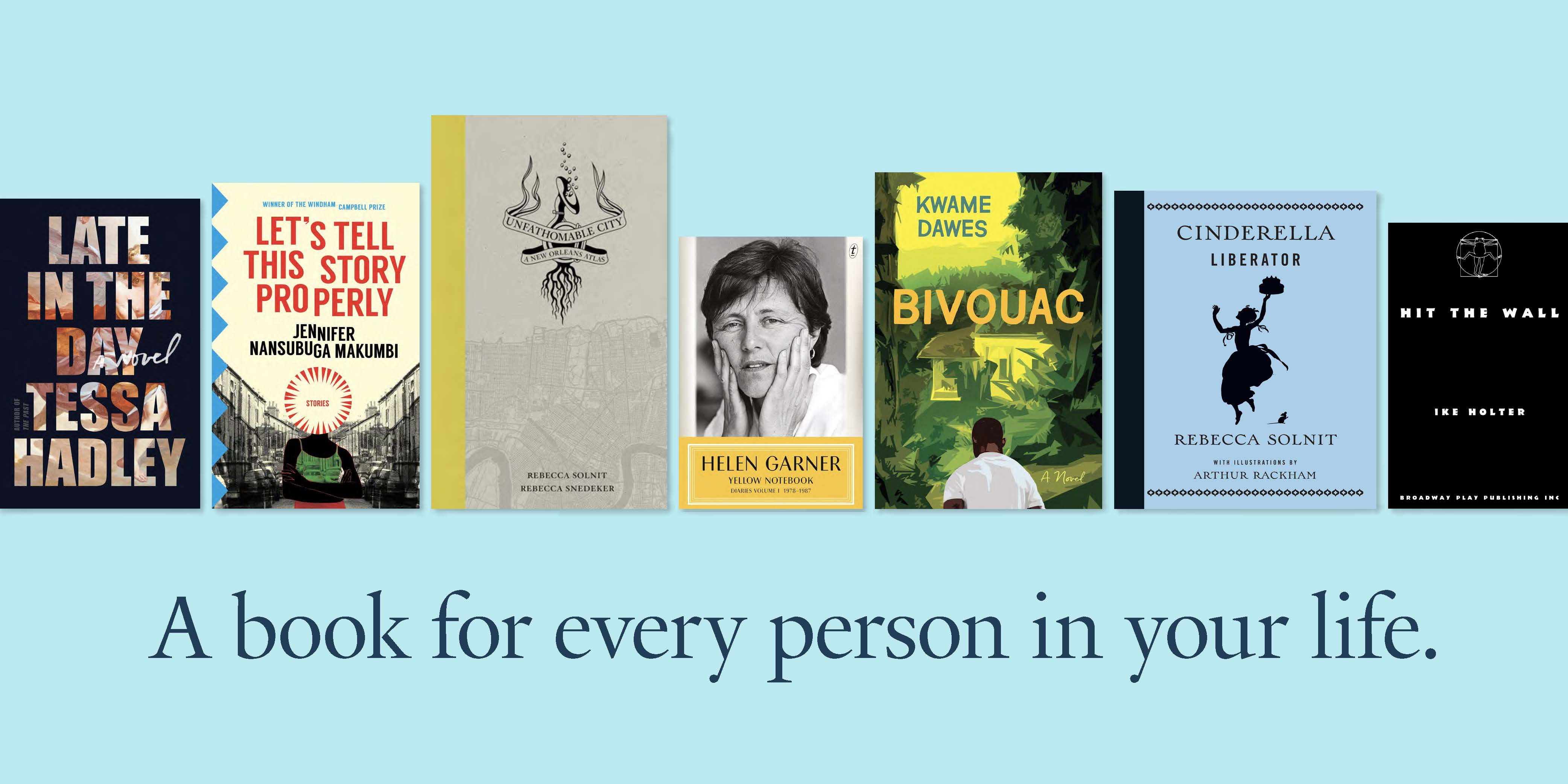 News
'Tis the Season! The Windham-Campbell Holiday Gift Guide
January 29, 2020
Here in New Haven the air is crisp, the snow is falling, and we're beginning to make our holiday shopping lists. It's probably no surprise that our answer to the question "what should I get _____ ?" is always: A BOOK. Big fat novels, slim short story collections, glossy coffee table books, velvety-soft small-press paperbacks . . . yes, we have a Windham-Campbell pick for every person in your life.

For your favorite young feminist, how about Rebecca Solnit's debut children's book Cinderella Liberator, a charming revision of the old story, in which "nobody gets married, nobody becomes a princess, [and] the prince needs liberation too"?

Adult fans of Rebecca Solnit (and/or lovers of cartography, cities, and travel) will like Infinite Cities, a trilogy of atlases that uses unconventional maps to excavate forgotten or suppressed histories. (Prints of individual maps, including my personal favorite "City of Women"—which renames New York City's subway stations for women like Cardi B and Alexandria Ocasio-Cortez!—are available for purchase here.)

Those with a penchant for self-examination and improvement (and isn't that all of us, as we hurtle towards January?) will appreciate the Folio Society's gorgeous edition of Montaigne's Essays, introduced and selected by Sarah Bakewell.

Impress your friend who subscribes to (and actually reads) the New York Review of Books and the Paris Review with Helen Garner's Yellow Notebook, Diaries Volume I. Fierce, fractious, and very, very funny, Garner is considered a national treasure in her native Australia but is just beginning to stake her claim stateside.

Ike Holter's newly published play Hit the Wall would make an interesting choice for a drama lover/history buff (in other words, anyone who has ever hummed the opening bars of "Alexander Hamilton"). Set in Greenwich Village in June 1969, Hit the Wall is both a loving character study and a propulsive historical thriller, detailing the lives of the Village's motley inhabitants—drag queens and stoners, cops and freedom fighters—in the hours leading up to the bloody police raid at the Stonewall Inn.

For fiction hounds, a few suggestions: If they liked Susan Choi's devastating exploration of love and friendship in Trust Exercise, they'll love Tessa Hadley's Late in the Day, a "grief-steeped story . . . [that] should be as fun as a dirge, but instead feels effervescent." If they tore through Min Jin Lee's blockbuster historical epic Pachinko, they might enjoy Kwame Dawes's pithier, quieter take on family, displacement, and political upheaval in Bivouac. And if they've been evangelizing for Carmen Maria Machado's breakout short story collection Her Body and Other Parties, you could try Jennifer Nansubuga Makumbi's Let's Tell This Story Properly, which centers on similar themes of embodiment and pain, power and sex, estrangement and domesticity.

Finally, one (and only one!) non-book gift recommendation, suitable for almost anyone on your list (including you, dear reader: you deserve it!): an HBO NOW subscription for the brilliant, provocative, and wildly enjoyable first season of Watchman. The show—on which our very own Branden Jacobs-Jenkins worked as a consulting producer and writer—was recently named one of the best shows of the year by the Washington Post for its"bracing vision of racism, mask-wearing, vigilantism, and superheroic qualms in a skewed-reality America."