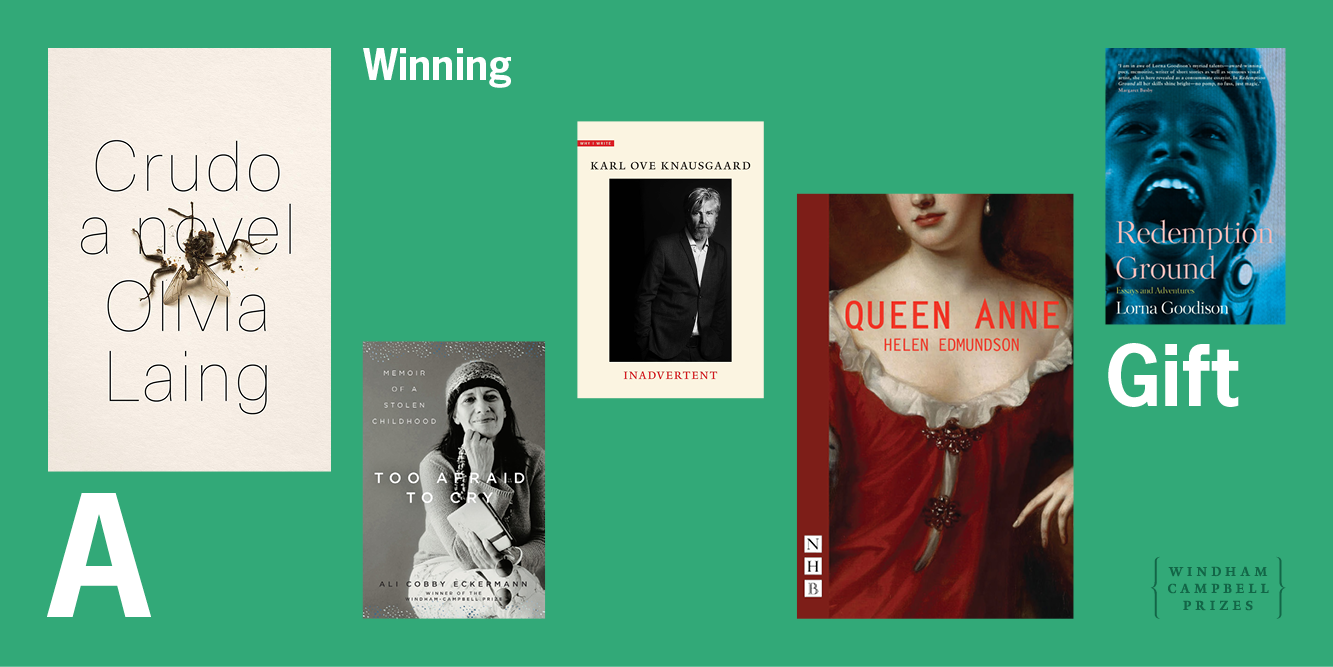 News
Tis the Season! New Books by Windham-Campbell Prize Recipients
December 14, 2018
Dear Reader,
Here at the Windham-Campbell Prizes we believe that books make the best gifts—and so, in the spirit of the season, we've put together this extra-special edition of our newsletter with ideas for everyone on your holiday shopping list.
First, may we not-so-humbly suggest the latest entry in our own Why I Write series, Karl Ove Knausgaard's Inadvertent? Wandering through subjects as disparate as Edvard Munch, garden hedgehogs, and the binge-ability of Game of Thrones, this "light-footed meditation on the literary life" is sure to please the writer (or reader) in your life.
For your friend the film buff, how about Adina Hoffman's biography of Ben Hecht, the charismatic (and controversial) Hollywood screenwriter who penned dozens of now-classic scripts, including Scarface, Twentieth Century, Spellbound, and Notorious?
Fans of Maya Angelou and Mary Karr will find much to love in Too Afraid to Cry, a memoir by Australian Aboriginal poet Ali Cobby Eckermann that tells the harrowing but hopeful story of Eckermann's return to the Indigenous community from which she was stolen at birth.
Those with an interest in photography might enjoy Geoff Dyer's new book on 1960s street photographer Garry Winogrand. The Street Philosophy of Garry Winogrand pairs the photographer's iconic images of New York City with mini-essays by Dyer, a format that allows Dyer to "range far and wide through photography, literature, art, theory, architecture, design, and music as he teases out his own offbeat associations."
In the realm of essay collections, Ashleigh Young's "lovely, strange, and profound debut" has received rave reviews everywhere from the New Yorker to Vogue to The Washington Post. Happily, it lives up to the hype, diving deep into the paradoxes of embodied experience.
Redemption Ground, a new collection from Jamaican Poet Laureate Lorna Goodison, offers an enticing mix of the personal and the political. "Like an arrow in the heart," Goodison's sensuous, stylish essays draw the reader from Kingston cinemas to New York nightclubs to London tea shops.
For the academically-minded, novelist Zoë Wicomb's first collection of critical writings considers issues of gender, identity, and race in South Africa and beyond.
For the fiction reader who has read (almost) everything, you might try Helen Garner's The Children's Bach, recently re-issued by Text Publishing. Praised by Ben Lerner as "beautiful, lapidary, [and] rare," Garner's cult-classic novella follows the slow unraveling of a suburban Australian family.
For the politics hound, Olivia Laing's auto-fictive Crudo captures the "disconcerting interplay between public climate and private weather" during the wild summer of 2017, tracking Laing's commitment-phobic, Twitter-addicted protagonist as she prepares for her wedding—and as Donald Trump trash-talks the New York Times, fires James Comey, and threatens to bomb North Korea.
Jim Crace's "strange, unsettling, brilliant" The Melody would be an inspired choice for a lover of speculative fiction. The novel, Crace's first since 2013's Booker-shortlisted Harvest, begins when a mysterious attack revives old fears about what lives in the woods surrounding a small town.
Happiness, the fourth novel from Aminatta Forna, reveals a London wounded by the twin violences of capitalism and colonialism. Taking the city as its central character, Forna's novel asks us "to think about the interconnectedness of lives both human and animal, about what we choose to see and ignore as we move through the city, about the power of small acts of decency."
Finally, devotees of theater (or royal history) will devour Helen Edmundson's Queen Anne, a twisty true-life tale of love, power, and betrayal that finds the roots of modern monarchy in the glamour and guile of eighteenth-century politics.
Whatever you choose, our advice is to double the size of the bow. It's been that kind of year, and we're sending it out in high style. We'll be back with a forecast of more literary riches to look forward to in 2019, and don't forget to save the date for our 2019 announcement on March 13. We've got a special twist for you this year. More on that soon! Meanwhile, we'll keep decking the halls with books and merriment, and wishing you the best of the season.
With boundless good cheer,
Your friends at the Windham-Campbell Prizes