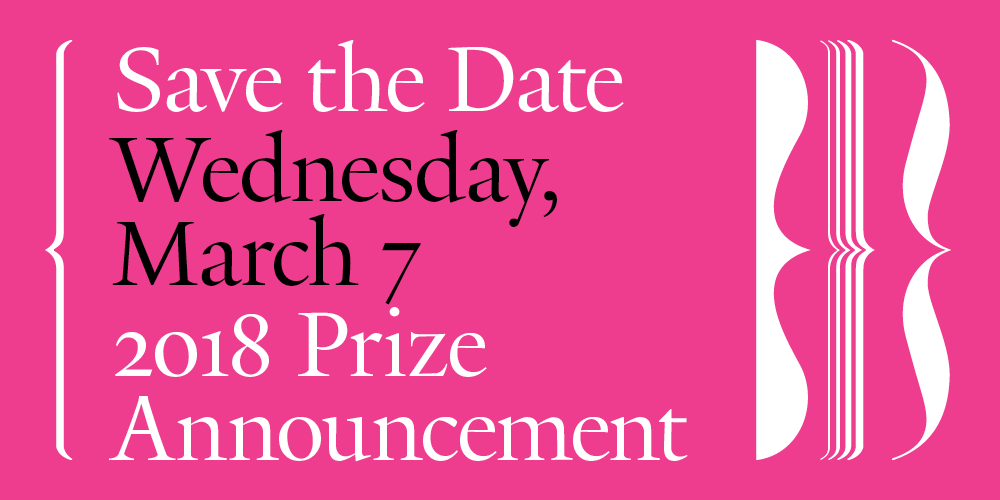 News
Time to Write: New Books by Windham-Campbell Prize Recipients
February 14, 2018
Dear Reader,

Mark your calendars! On March 7, we'll reveal this year's Windham-Campbell Prize recipients.

Each year, when we announce the names, the media fills with stories of "the call": the life-changing conversation with Prize Director Michael Kelleher in which eight writers learn that they'll receive an enormous sum of money to support their future work.

Who can forget Helen Garner's (nonfiction, 2016) fantastic Guardian headline: "'I used to feel spiteful because I never won prizes. Now I can die happy'? Or Tessa Hadley's (fiction, 2016) declaration that winning the Windham-Campbell Prize has been "something near to miraculous . . . an almost improbable collision of inner and outer lives, the self and world, hope and achievement"?

With that in mind, here are some new books to look for in the first half of the year:

In March, Happiness by Aminatta Forna (fiction, 2014), will be published in the United States. Says Booklist, "The overarching message tucked into Scottish and Sierra Leonian writer Forna's quietly resonant novel is this: Every living thing is the net sum of its history, and we carry the weight of our past on our shoulders.…Intricately woven . . . Forna's novel is ultimately a mesmerizing tale studded with exquisite writing."

In March, Ali Cobby Eckermann's (poetry, 2017) memoir Too Afraid to Cry will be published in the United States. Read her recent profile in the New York Times.

In March, The Street Philosophy of Garry Winogrand by Geoff Dyer (nonfiction, 2015)—one hundred essays about one hundred photographs, including previously unpublished color work—will be published in the United States.

In March, The Age of Anger by Pankaj Mishra (nonfiction, 2014), named a New York TimesNotable Book of 2017 and a Best Book of the Year by Slate and NPR, will be published in paperback.

In April, The Golden Legend by Nadeem Aslam (fiction, 2014), praised as "masterful and compelling fiction" by The Boston Globe, will be published in paperback.

In June, The Melody by Jim Crace (fiction, 2014) will be published in the United States, which is wonderful news after his remarks in The Guardian in 2014: "he suggested the prize would give him the chance to follow a 'rediscovered . . . passion for fiction', after beginning to doubt if he would write another novel. 'Stories are crowding in, demanding their space on the page,' he said. 'The Windham Campbell prize at Yale gives me the independence and the confidence to take on those stories, free from everyday pressures.'"

Looking for a new podcast? We recommend "Crossing the Gulf." Tune in to Episode 4 for a discussion of Erna Brodber's (fiction, 2017) work and its impact. We'll be back again on March 7, with this year's new recipients of $165,000 USD Windham-Campbell Prizes, two writers each in the categories of fiction, nonfiction, drama, and poetry. Who will win the Prize? We'll know soon.

All best,

The Windham-Campbell Prizes

P.S. We'd love to connect with you over on our brand-new Instagram page, where we'll be posting one photograph from our archives each day, counting down to the prize announcement on March 7.