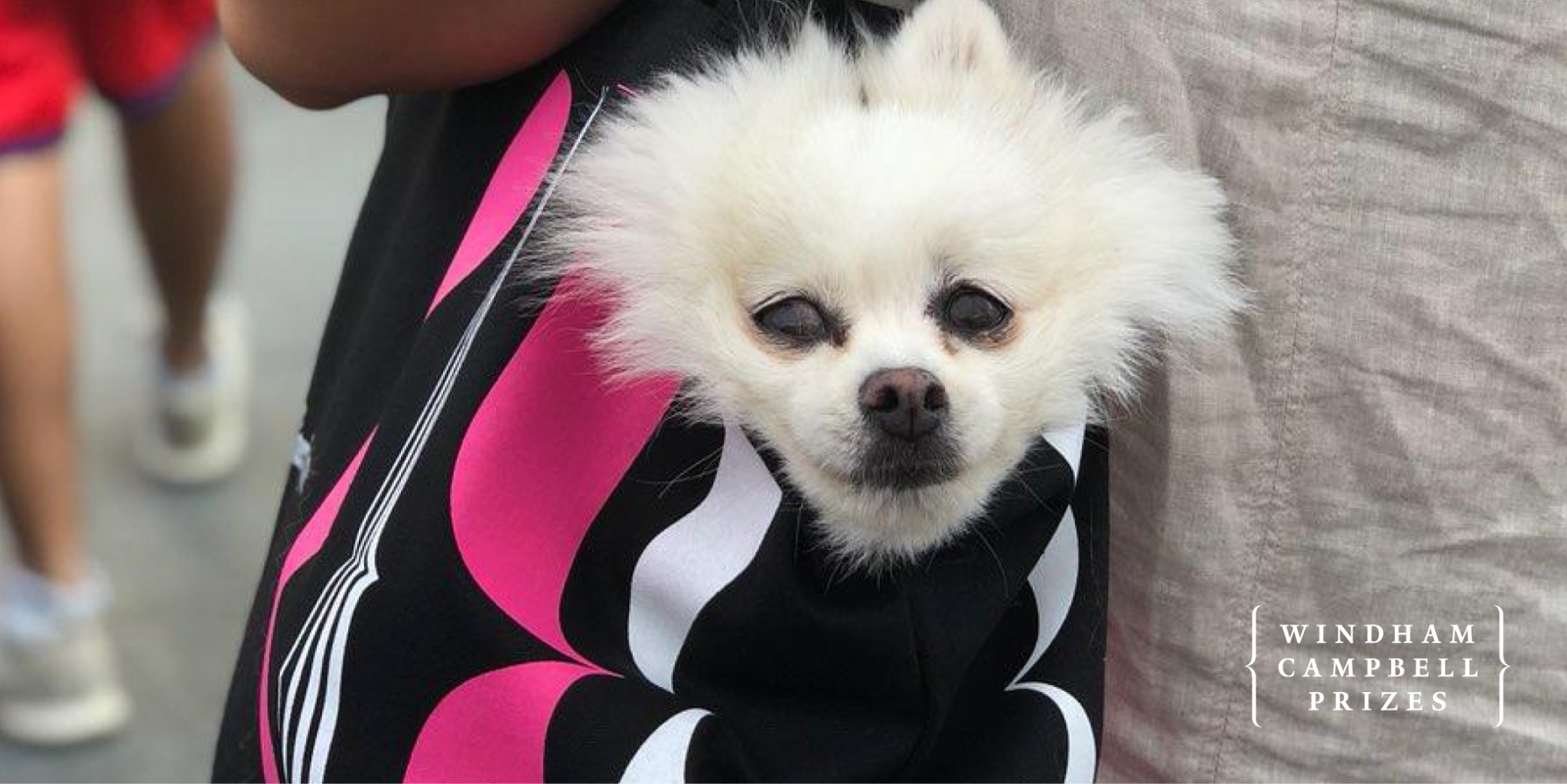 News
Pack your bags–– it's festival season for readers and the Writer's Prize
October 02, 2018
Dear Reader:
Many of you are receiving this letter for the first time, as we accepted more than 500 new sign-ups at our Brooklyn Book Festival booth. Welcome! We'll write every month of so with meaningful news from the world of the Windham-Campbell Prizes and its recipients.
Our own festival, a celebration of the 2018 Prize recipients, has just concluded. It was wonderful to meet so many of our readers in person (including the adorable Minti, pictured above in one of our signature tote bags). Other highlights include Elizabeth Alexander's keynote, which will soon become a book in our Why I Write series with Yale University Press. Meanwhile, you can read coverage of Professor Alexander's moving speech at Yale News: "I write, says Elizabeth Alexander, to 'grasp life' and 'take you with me.'" Video is available here.
We'll continue to share photos and memories–including of a wonderful party for prize recipients and friends that we gave at the offices of A Public Space in Brooklyn, featuring the Wayne Batchelor Jazz Band and catering by Pies 'n' Thighs–throughout the year on Instagram, Twitter, and Facebook.
If you're in the St. Paul, Minnesota area, please join us next month at the Twin Cities Book Festival, where we'll present a discussion with 2015 Windham-Campbell Prize recipient Geoff Dyer and Prize director Michael Kelleher.
After that, Michael's next stop will be at the Ubud Writers & Readers Festival in Bali.
2018 Prize recipient Olivia Laing's new novel Crudo continues to find readers, with NPR praising it as "perfect, and agonizing" in its mix of fiction and ripped-from-the-headlines realness. Meanwhile, 2017 Prize recipient Ashleigh Young's essay collection Can You Tolerate This? was just named an Editors' Choice by the New York Times, who called the book a "lovely, profound debut."
With best wishes,
Your friends at the Windham-Campbell Prizes