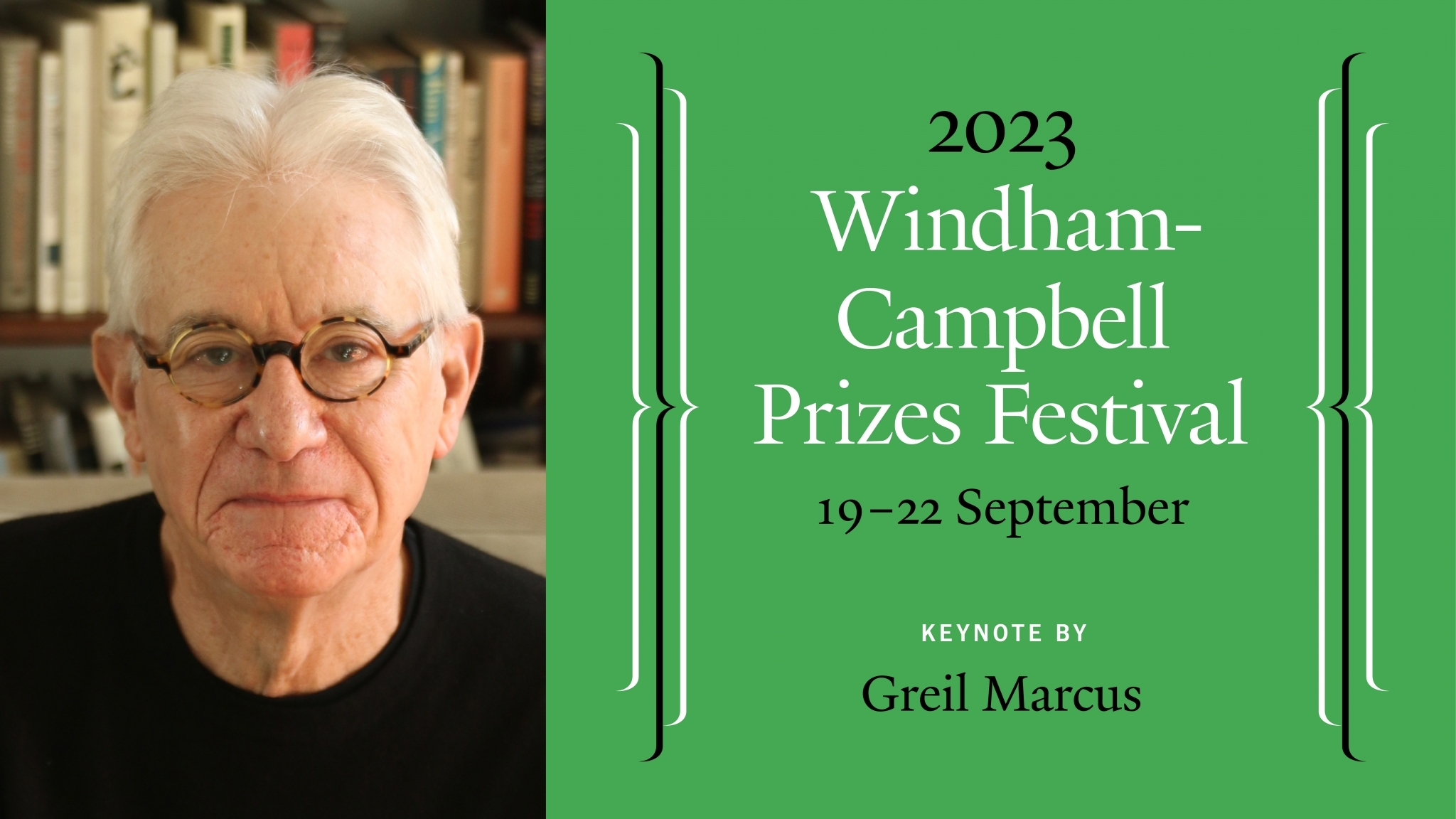 Festival 2023
Prize Ceremony and Windham-Campbell Lecture by Greil Marcus
Wednesday, September 20
5:00 PM
Yale University Art Gallery, Robert L. McNeil, Jr., Lecture Hall
1111 Chapel Street (enter at 201 York Street)
FREE & OPEN TO THE PUBLIC
Yale University President Peter Salovey presents the 2023 awards in drama, fiction, nonfiction, and poetry, and legendary music critic Greil Marcus delivers the annual Windham-Campbell Lecture "Why I Write."
Marcus will be introduced by Daphne Brooks, the William R. Kenan, Jr. Professor of African American Studies, American Studies, Women's, Gender, and Sexuality Studies, and Music at Yale.
The lecture will also be livestreamed on the Windham-Campbell YouTube channel.
Greil Marcus was born in San Francisco in 1945 and lives across the Bay in Oakland with his wife, Jenny, who he met the week John F. Kennedy was assassinated. He graduated from the University of California at Berkeley in 1967, where he was lucky to study with Michael Rogin, John Schaar, Norman Jacobson, and Larzer Ziff. Since 2000 he has taught at Berkeley, Princeton, The New School, the University of Minnesota, and the Graduate Center in New York. He is the author of many books, including Mystery Train (1975), Lipstick Traces (1989), The Dustbin of History (1995), Invisible Republic aka The Old Weird America (1997), Double Trouble (2000), 'The Manchurian Candidate' (2002), The Shape of Things to Come: Prophecy and the American Voice (2006), The History of Rock 'n' Roll in Ten Songs (2014), Under the Red White and Blue: Patriotism, Disenchantment and the Stubborn Myth of the Great Gatsby (2020), and Folk Music: A Bob Dylan Biography in Seven Songs (2022). With Sean Wilentz he is the editor of The Rose and the Briar: Death, Love, and Liberty in the American Ballad (2004) and with Werner Sollors of A New Literary History of America (2009).
Born and raised in the San Francisco Bay Area, Daphne A. Brooks earned her BA in English from UC Berkeley and her PhD in English from UCLA. She also clocked some serious hours rolling through the aisles of Tower Records, Amoeba Records, Rasputin's and Rhino Records. Brooks is the author of three books—Bodies in Dissent: Spectacular Performances of Race and Freedom, 1850-1910, winner of The Errol Hill Award for Outstanding Scholarship on African American Performance from ASTR, Jeff Buckley's Grace (2005), and Liner Notes for the Revolution: The Intellectual Life of Black Feminist Sound (2021). She is currently at work on a Black feminist rereading of DuBose Heyward and the Gershwins' Porgy and Bess as well as a multi-volume study of Black women and popular music culture entitled Subterranean Blues: Black Women Sound Modernity, of which Liner Notes for the Revolution is the first installment. Her writing has appeared in the New York Times, The Nation, The Guardian, Pitchfork.com, Artforum, Slate, Oxford American Magazine, NPR.org, the Los Angeles Review of Books and other press outlets. Brooks is currently editing an anthology of essays forthcoming from Duke University Press and culled from Blackstar Rising & The Purple Reign: Celebrating the Legacies of David Bowie and Prince, an international 3-day conference and concert which she curated.